Blog Post
What happens in Bikini doesn't stay in Bikini: A recap of the Call for Code hackathon in Berlin
On June 15-16, 2019, we hosted a hackathon in Bikini Berlin. Our core focus was to help participants of the Call for Code 2019 Global…
---
On June 15-16, 2019, we hosted a hackathon in Bikini Berlin. Our core focus was to help participants of the Call for Code 2019 Global Challenge with their submissions. This year's challenge is to improve natural disaster preparedness, response, and recovery with an emphasis on healthcare. For this local hackathon, we had special experts on hand and prizes for the winners. In this post, I'll share details on how the hackathon went, the winning team, and how you can join this year's Call for Code challenge.
Hackathons are time-limited competitions, typically challenging teams to create a new application. At a hackathon, participating create innovative solutions to an existing problem. For these competitions, technologies and data sets from participating partners are made available to aid the participants in their quest. In order to determine the winner of a hackathon, teams present and demonstrate their solutions at the end of the hack to a panel of judges. Last weekend, we hosted a two-day hackathon in Bikini Berlin.
Wait, did you say Bikini?
Yes, that's right! Our hackathon took place in the Bikini Berlin, the world's first concept mall. Like its namesake, this multi-story mall is divided in two pieces, with a bare section between them where the architecture is supported by columns. Located in City West in Berlin, the heritage-listed Bikini Berlin complex runs along the southside of the Berlin Zoo. Synonymous with unique, new ideas and transformation, it was the perfect location for our hackathon. We are currently in the middle of our Think at IBM six-week popup experience at Bikini Berlin. It's running until the end of June, so you still have some time to check it out! Don't miss our IBM rooftop terrace, the perfect spot to explore our technology and enjoy the summer days.
We invited the tech community to answer the Call for Code at our hackathon in Berlin. We wanted to encourage developers, designers, and specialists to be creative and innovative in crafting solutions to improve preparedness for natural disasters. Joining us were a variety of individuals, with different talents and experiences. We wanted all of our participants to have fun. Each of the participants recieved hands-on experience and coaching from our Developer Advocates. The challenge presented at this hackathon was to design and prototype a solution in less than 48 hours.
Saturday, June 15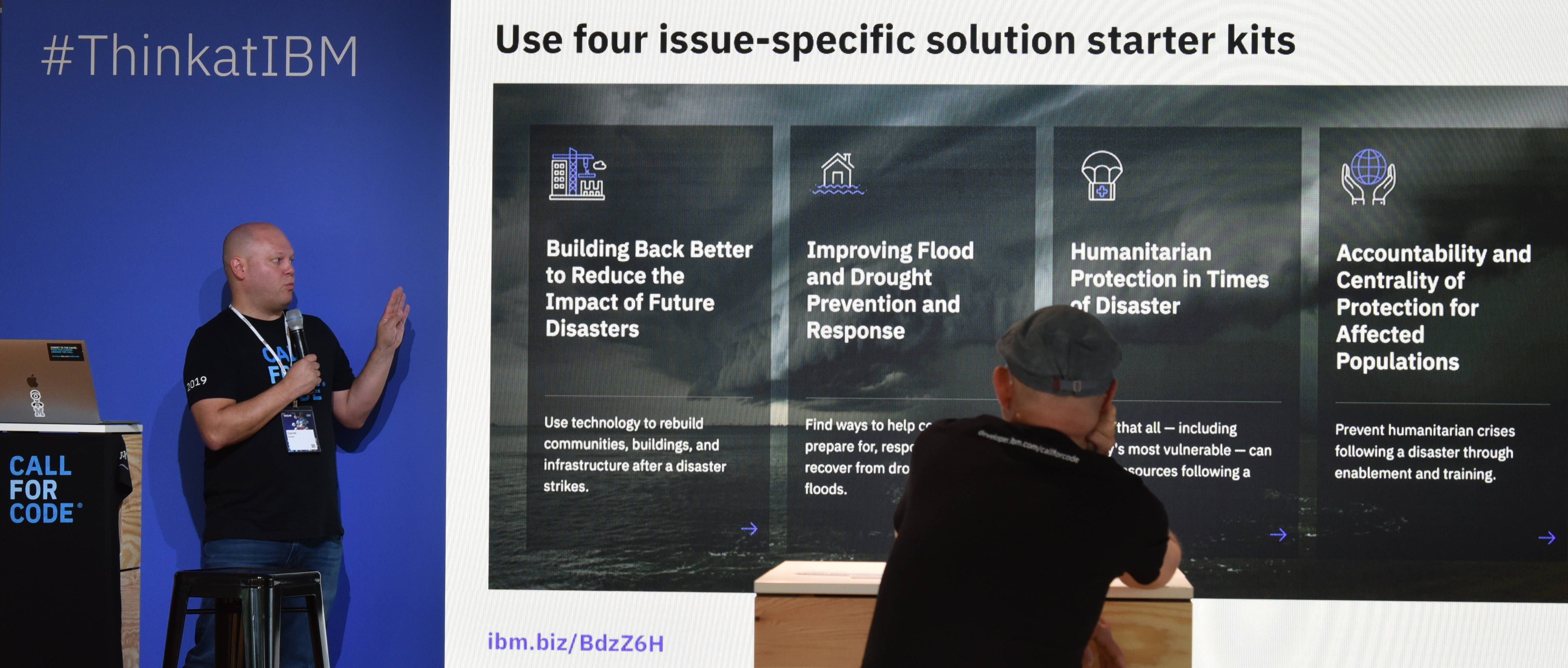 On Saturday, we began the hackathon with some opening talks and workshops. Among others, we were thrilled to have an introduction to Call for Code from Daniel Krook, CTO IBM Code and Response, live and in-person! Next, we presented the goals of our local hackathon, ideation, and then the participants formed teams. It is important to note that for the Call for Code 2019 Global Challenge, teams of up to five participants are allowed.
Right now: Sid is sharing an interesting perspective on MVPs – Focus on the cupcake! #CallforCode> #hackathon> #Berlin> #ThinkatIBM

— Miriam Oglesby (@Jessieevaline) June 15, 2019
My colleague, Siddhartha Arora, hosted an IBM Design Thinking workshop, galvanising our participants into action, stressing the importance of creating a solution, rather than components. After a working lunch, it was time for further ideation on designing and coding the new apps and solutions. Our Developer Advocates were on hand for coaching and support. Unlike some hackathons where coding goes long into the night, we ended the first day promptly at 9pm, giving participants the chance to recharge their batteries for the following day.
Sunday, June 16
On Sunday, there were a couple more hours to work on the projects and prepare before the final presentation. Pressure was building as time started running out.
Then it was time for the judging and award ceremony! All Call for Code submissions are judged on the following four aspects:
Completeness and transferability
Effectiveness and efficiency
Design and usability
Creativity and innovation
Another awesome #CallforCode Hackathon took place this past weekend, this time in #Berlin! Great to see so many people getting together to find solutions to the tremendous challenges caused by Natural Disasters. We can't wait to see your ideas! Visit: callforcode.org

— Call for Code (@CallforCode) June 18, 2019
The winning team: Connecting the Dots
The winners of our hackathon, team Connecting the Dots, created a solution that uses existing technologies to trigger earlier alerts and warnings, as preemptive measures to protect people from the effects of natural disasters. Using our Internet of Things Platform, as well as Machine Learning, Neural Networks, calculating algorithms, and predicting models in IBM Watson Studio, their solution detects and predicts changes in order to improve early warning systems. Let's find out more about the winning team.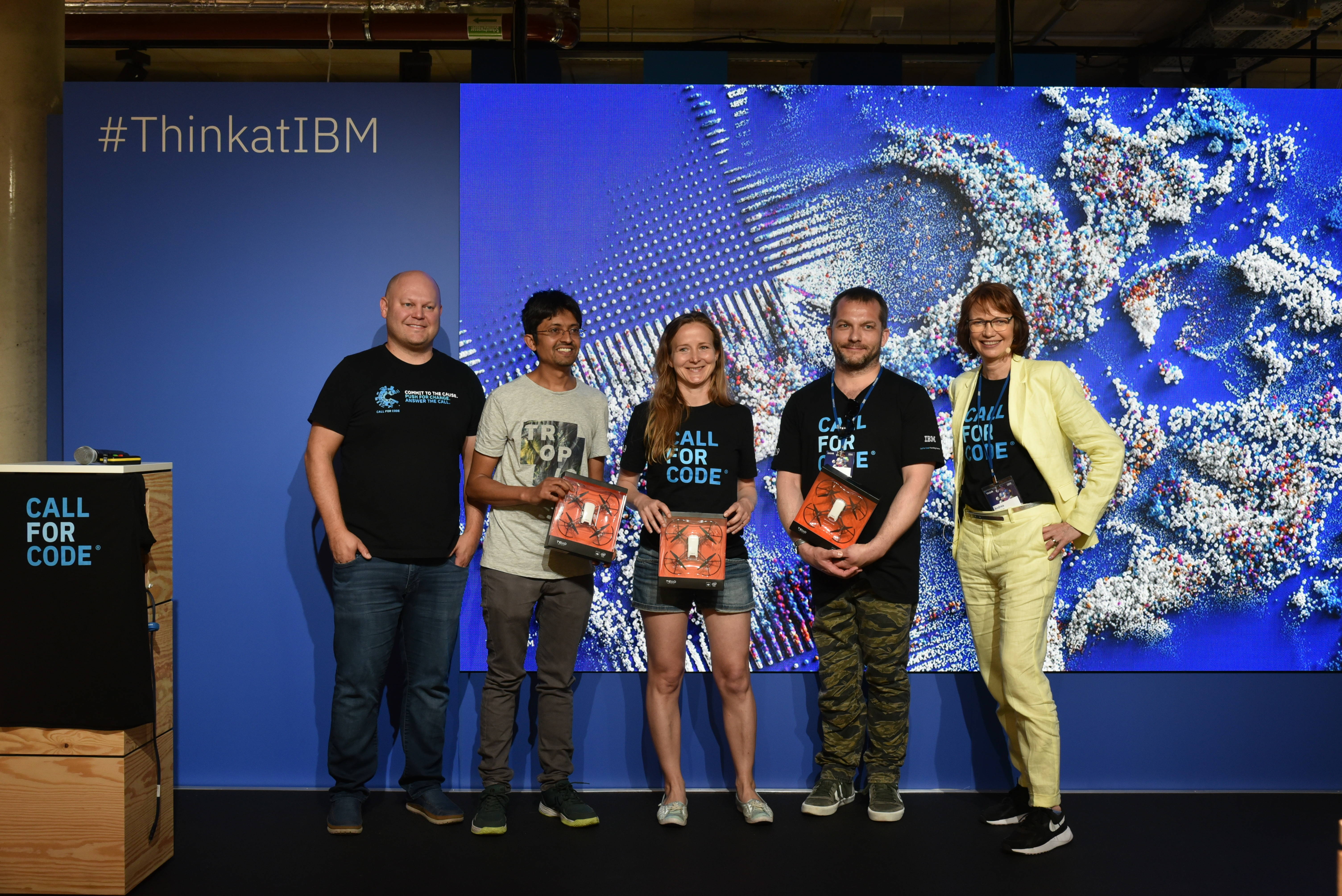 Team member Aswin Pyakurel said, "The greatest motivation for me was to learn and test the IBM Cloud and Watson platform. Indeed, during the hackathon, we were able to use the Watson IoT platform to get real time data from a sensor, feed this data into the Watson Machine Learning platform. I was also able to build a neural network which was deployed on the Watson ML platform and get real-time prediction. I enjoyed learning from lots of IBM coaches and my teammates. We hope to submit this project for the bigger Call for Code challenge."
Martin Karmasz heard about Call for Code via LinkedIn. When I asked Martin what he enjoyed most about the weekend hackathon in Berlin, he replied: "The IBM Developer Advocate team was very friendly and helpful. They answered our questions by explaining even the smallest detail with great patience. From the beginning, all attendees had different stages of knowledge about machine learning and IBM AI tools. In the end, all were more even. This Call of Code Hackathon was my personal machine learning bootcamp experience."
Gesa Schneider heard about our hackathon through a developer friend. I asked Gesa what inspired her: "Creating something of impact, meeting like-minded people, having the support and the knowledge sharing of one of the most innovative companies in the world." Here's what she learned at our Call for Code hackathon: "A lot about IBM technology, in particular about AI Watson and neural networks. Besides that, it was also interesting to know more about natural disasters, the current challenges of predicting them and to figure out how technology can help here. I also learned that in the context of time constraints, with the help of team spirit and a lot of energy, great things can be achieved as well as that it is worth being persistent." And what she enjoyed most about the hackathon was "the amazing support by IBM mentors, coming from all over Germany and even from the US to support us during the full weekend."
Each participant in our Berlin hackathon winning team won a DJI Tello drone. So, what's next for Gesa and team Connecting the Dots? "Bringing the idea to the next level, doing a pilot program with real time data projection. Maybe we can even implement the drones we won into our solution. And finally, submitting the project to the Call for Code 2019 Global Challenge."
Resources
Can't make it to any of our local Call for Code events? Join our online, global virtual hack on June 20-21. Want to get started straight away? Join our dedicated Slack channel and search #virtual to find your team members!
We want to equip you and help you with your Call for Code submissions as best we can. Get up to speed on incorporating different technologies into your solutions with these five fantastic blogs written by Derek Teay:
We also have four solution starter kits to help you get started with your own submission.
Push for change. Join the Call for Code 2019 Global Challenge now.
In the meantime, check out our Developer Advocacy team in Germany, and be sure to join our IBM Developer Meetup in Berlin.