Blog Post
The 2020 Call for Code Global Challenge takes on COVID-19
This year's Challenge takes on both climate change and COVID-19, two urgent crises facing our world today
---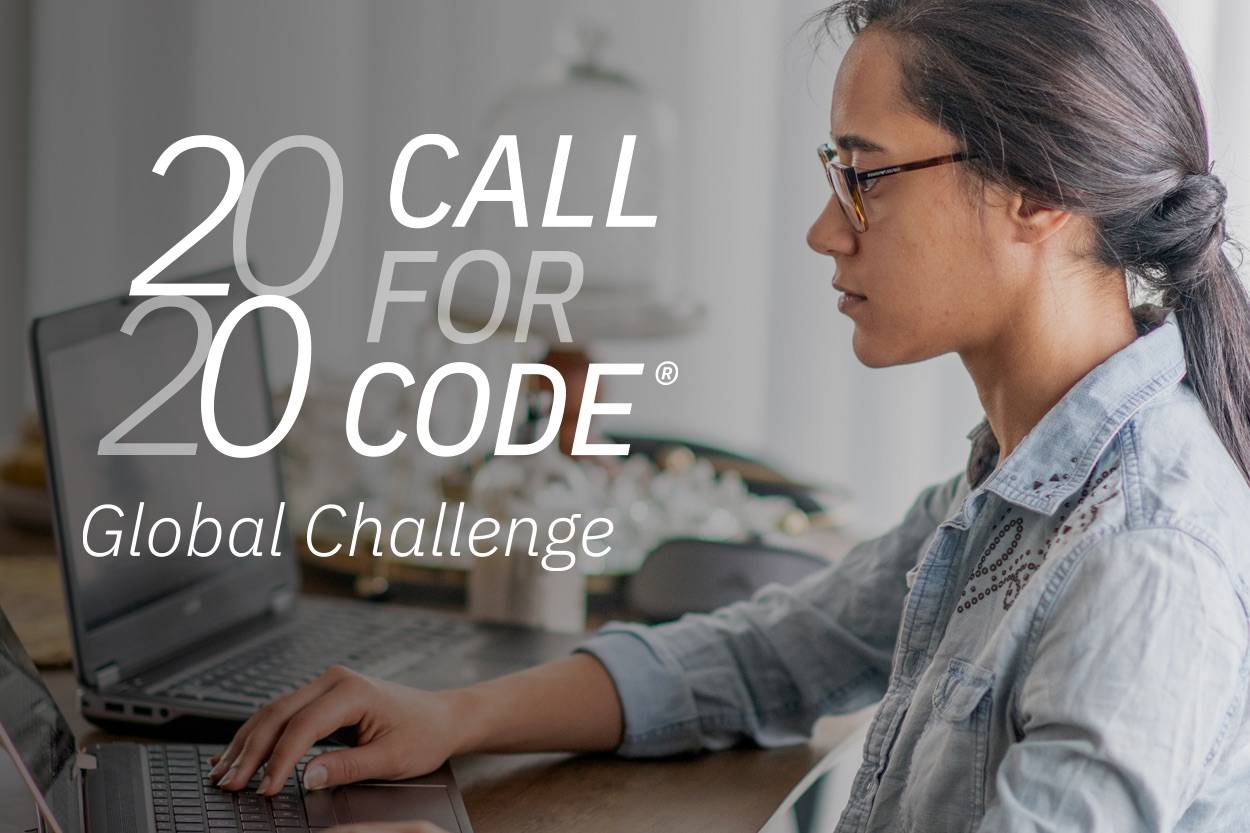 From its inception, Call for Code has tackled society's most pressing issues. More than a month ago, IBM participated in a health hackathon, and the ideas generated there addressed many of the most pressing needs we face today – from testing kits to drug discovery and supply chain. We were inspired to see what developers could create in just one weekend to help respond to COVID-19. We realized we can and should do more through the amazing ecosystem and infrastructure we've created through Call for Code.
Just last week we announced that the Call for Code Global Challenge would expand to address both climate change and COVID-19, and we're already receiving overwhelming support and some exciting early ideas. In a single day, we received over 1,000 registrations from developers. First responders, at-risk individuals, and coders are reaching out to us to share their experiences and brainstorm solutions. Together with Creator David Clark Cause and in partnership with United Nations Human Rights and the Linux Foundation, we're asking developers, data scientists, and problem solvers to answer the Call.
On COVID-19
In a very short period of time, COVID-19 has revealed the limits of the systems we take for granted. I'm personally inspired by a message we received from an elderly, at-risk individual in the UK who is quarantined and struggling with a lack of grocery delivery options because local stores are overwhelmed with orders. How can we connect folks like this with local volunteers and digital payments to keep them safe and fed during this crisis? We think these are the kinds of problems that tech and community cooperation can address very quickly.
We recognize the urgency to act — to identify, build, and deploy solutions — so we have created an accelerated timeline for the COVID-19 Call for Code track. The initial submission deadline is Monday, April 27, and we'll announce the three top solutions on Tuesday, May 5, at the IBM Think Virtual Conference. Our goal is to work quickly to partner with those teams to get their innovations out in the field, while keeping the track open through July to continually source and showcase more solutions until we announce our global challenge winners in October.
Today we're publishing three COVID-19 starter kits (see here): quick-start guides that explain the individual problems people and communities are facing, to help you start creating applications tied to easy-to-understand use cases in just minutes.
Crisis communication: In times of crisis, communications systems are one of the first systems to become overwhelmed. Chatbots help respond to tens, even hundreds, of thousands of messages a day. COVID-19 has prompted many people to seek answers about symptoms and testing sites as well as the current status of schools, transportation, and other public services. Using Watson Assistant, this Call for Code starter kit has designed a virtual assistant pre-loaded to understand and respond to common questions about COVID-19, scan COVID-19 news articles using Watson Discovery, and respond to COVID statistics inquires with data from trusted sources.
Remote education: It's imperative that learning and creating can continue when educational institutions have to shift the way they teach in times of crises, such as the COVID-19 pandemic. Providing a set of open source tools, backed by IBM Cloud and Watson Services, will enable educators to more easily make content available for their students.
Community cooperation: There is a growing interest in enabling communities to cooperate among themselves to solve problems in times of crisis. In the COVID-19 crisis, we have already seen problems with the local supply of food, equipment, and other supplies. Mobile, web, and cloud services enable rapid deployment of applications that can empower cooperation in the community.
The kits include a description of the starter solution, an architectural diagram, and a tutorial with starter code and reference materials. My thanks to our partners like Altran for their participation and support, and we look forward to continuing to collaborate with our returning Call for Code supporter, Bank of China.
Tarush Verma, Client Leader and AVP at Altran, a global innovation and engineering consulting firm, said "Altran will help fight this pandemic by creating innovative solutions for the Call for Code Global Challenge including chatbots and other applications based on the new COVID-19 developer starter kits."
On climate change
We've also published the 2020 Call for Code Challenge climate change starter kits (see here). To help define the specific situations caused by climate change where your innovations could be most helpful, a few weeks ago IBM partnered with the world's leading humanitarian experts for our kickoff event in Geneva at the historic Palais Wilson, Headquarters of the Office of the United Nations High Commissioner for Human Rights. Together with UN humanitarian experts, and eminent technologists from Red Hat, JP Morgan Chase, Persistent Systems, Unity Technologies, NearForm, and Johnson & Johnson, we collaborated to create our three climate change starter kits.
Each kit focuses on a key topic — water sustainability, energy sustainability, and disaster resiliency — essential to halting and reversing climate change, and grounded in real-world needs defined by the UN Sustainable Development Goals and the Sendai Framework for Disaster Risk Reduction. These are the areas where you can have the greatest impact:
Water sustainability: This IoT-based solution aims to help farmers, particularly those in shifting climate realities, monitor hyper-localized weather data and adapt their crop strategies to optimize water usage.
Energy sustainability: With a goal of building consumer awareness about energy costs across the manufacturing process, this solution creates the framework for a new global product labeling system that would include a comprehensive Climate Impact Rating (CIR), similar to the labels on food products, with incentives for consumers and retailers to drive purchases of more efficient products.
Disaster resiliency: To help communities prepare for floods, this app will provide residents with education at all stages of an event, from a checklist of essential survival materials to real-time information on the capacity of local shelters.
With these starter kits, you can get a head start creating a sustainable solution to halt and reverse climate change. To further increase the impact you can make, IBM is building a wide ecosystem of partners and tech providers to help participants round out their solutions. For example, the HERE Location Services APIs let you access geospatial data, routing, geofencing and interactive maps.
You can register and get started now creating applications with our open source-powered software built on Red Hat OpenShift, IBM Cloud, IBM Watson, IBM Blockchain, and data from The Weather Company. As we've done the previous two years, IBM will work with the teams who create the most promising solutions to build, fortify, test, and deploy them through IBM Code and Response.
Together, we have the power to use the latest technology in ways that make an immediate and lasting humanitarian impact in local communities and across the globe.
Thank you for answering the Call in this unprecedented time in our history.