IBM Champions
IBM Champions demonstrate both expertise in and extraordinary support and advocacy for IBM technology, communities, and solutions.
IBM Champion program
IBM Champions demonstrate both expertise in and extraordinary support and advocacy for IBM technology, communities, and solutions.
The IBM Champion program recognizes these innovative thought leaders in the technical community and rewards these contributions by amplifying their voice and increasing their sphere of influence. IBM Champions are enthusiasts and advocates: IT professionals, business leaders, developers, executives, educators, and influencers who support and mentor others to help them get the most out of IBM software, solutions, and services.
Search the IBM Champion profiles below to get to know them.
IBM Champions are not employees of IBM.
---
Search for IBM Champions
Learn more
IBM Champions are a community of 600+ external experts across IBM technologies and around the world who are recognized by IBM for their extraordinary expertise and contributions to the technical community.
Champions are developers, technologists, consultants, CXOs, managers, faculty, students, engineers, and architects who are nominated and selected annually based on thousands of contributions.
IBM Champions support the success of IBM products by offering feedback from the front lines and technical ideas from the cutting edge. They nurture and support technical communities by running user groups and conferences, writing blogs and articles, contributing code and content to forums, and speaking at conferences.
What do IBM Champions do?
IBM Champions contribute regularly to the body of knowledge around IBM products and to the technical community. Typical contributions and engagement fall into the categories below:
Qualifications
Examples
Evangelize and advocate for IBM

Speaks at conferences, user group meetings, IBM events.
Uses social media channels to help spread the word about IBM solutions and increase positive sentiment towards IBM.
Helps IBM share specific messages around launches and announcements.
Works within their own company or their customers' companies to encourage continued use of IBM technology.
Helps customers make the most of the IBM technology that is installed (use of expanded features, broader adoption, and more).
Explores ways to reach outside the current community sphere to reach new audiences.
Partners with IBM about how to become better evangelists.
Speaks with press and analysts about IBM.
Engages with IBM around news and announcements.

Shares knowledge and expertise

Participates in online forums, answering questions, and sharing expertise.
Creates instructional videos, podcasts, interviews, and other support/teaching sessions.
Shares knowledge via articles, blogs, books, white papers, Redbooks, wikis, and/or wiki articles.
Provides feedback and suggestions on IBM certification exams.
Works with IBMers to create and share technical content on various sites, including IBM Developer and IBM Community.
Provides feedback and suggestions on product usability and documentation.
Participates in usability activities to improve IBM products.
Helps IBM improve on products and solutions by actively participating in beta programs, usability studies, and other types of research.
Organizes or connects people in their network to find support for issues.

Help grow and nurture the community

Uses social media channels (blogs, Twitter, Facebook, LinkedIn, Connections, podcasting, and others) to drive awareness to community topics and events.
Starts, leads, and/or participates in local user group meetings and events.
Participates in community webcasts and meetings.
Helps mentor new community members and drives them to community sites.
Guides community members so they know how to leverage information in the community (that is, help new people know where to go for help).
Participates in or leads activities to encourage sustained community activity and contributions.
Implements new and innovative ways of growing the community.
Communicates honestly, openly, professionally, and respectfully.

Expand reach across the IBM portfolio

Finds ways to expand customer adoption of broad set of IBM capabilities.
Integrates solutions across the IBM portfolio.
Leverages IBM's breadth of technologies to augment brand specific products.
Extends knowledge and skills to new areas of investigation interest in the technical community.

Provide feedback on IBM products and direction

Provides feedback in appropriate forums, such as a design partner programs or private discussions with target IBM contacts who can affect or implement changes.
Reaches out to appropriate contacts within IBM to share criticism or suggestions.
Presents feedback, both negative and positive, in a constructive and professional manner.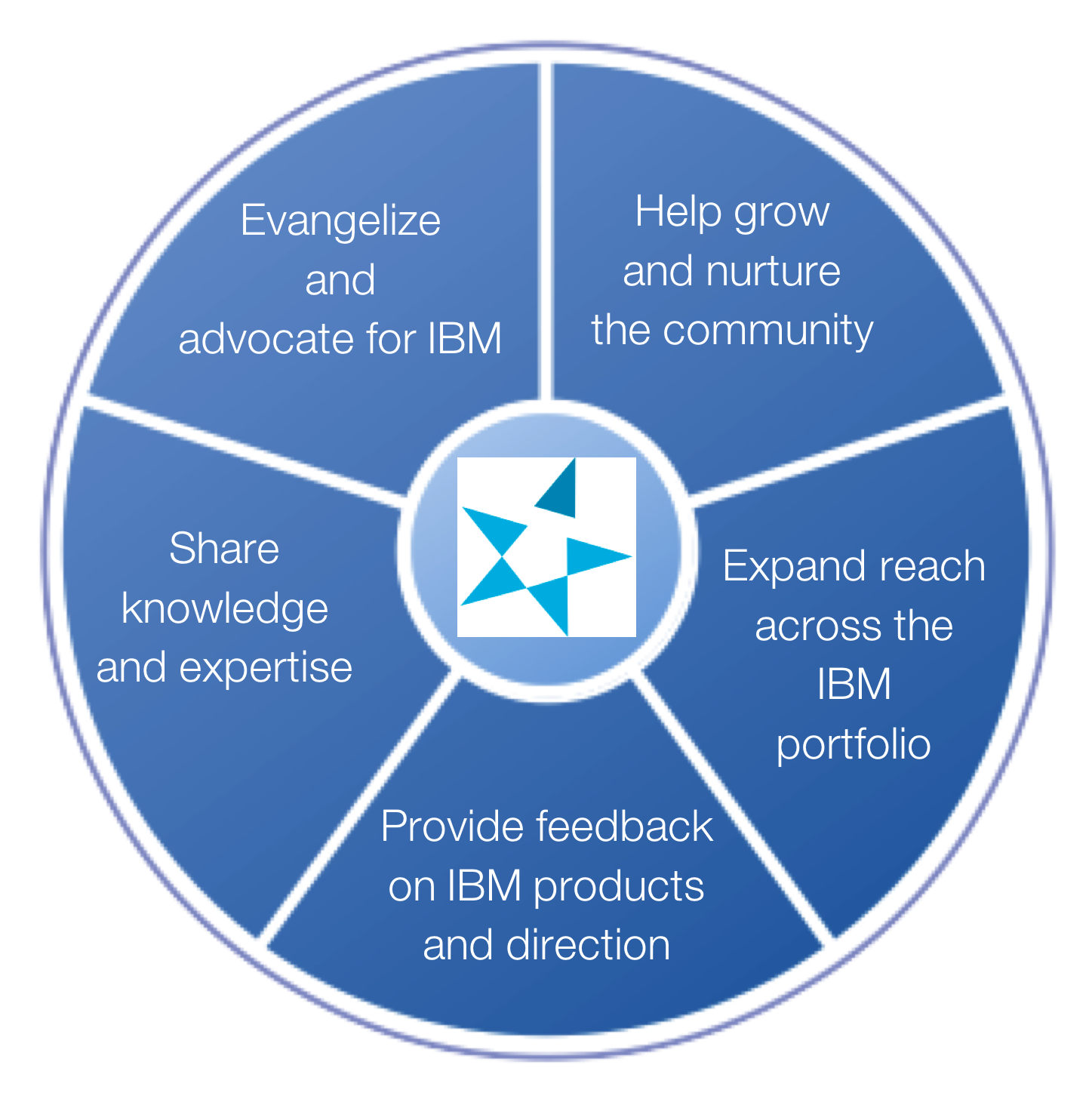 What is the duration of the IBM Champion designation?
IBM Champions receive the title for one year, during which they can enjoy the benefits that are associated with the program. Existing Champions are eligible to renew their status for the following year, as long as they can demonstrate that they have made significant contributions to the community over the past 12 months. Renewal applications will be reviewed and evaluated by a panel of IBM employees. Being named IBM Champion one year does not automatically guarantee that you will remain in the program the following years. IBM also reserves the right to remove a Champion before the 12-month term ends.
How do I become an IBM Champion?
Individuals can either nominate themselves or be nominated by their peers or IBM employees based on their contributions in the past 12 months. An IBM panel compares nominees to the contributions of other nominees during the same time period. If you know of someone who you feel is worthy, nominate him or her. Nominees need a detailed IBM Community profile, so if you're nominating yourself, take a moment to create or expand your profile.
Are IBM employees eligible to become champions?
No. IBM employees are not eligible for the program, but are welcome to nominate other worthy members of the community.
What are the benefits and obligations of being an IBM Champion?
What are the benefits of being an IBM Champion?
IBM champions may receive:
Invitations, discounts and VIP perks at IBM conferences and events.
Annual package of IBM Champion logo gear to wear, use and display.
An IBM Champion-verified digital credential through the IBM Digital Badge Program.
Visibility, recognition, and networking opportunities.
Exclusive access to online IBM communities.
Exclusive access to IBM product development teams.
Promotion of content and assets via IBM's channels.
Special recognition on their IBM Community profile.
Are IBM Champions compensated for their role?
No. IBM Champions may receive special program benefits, but they are not compensated nor employed by IBM.
Do IBM Champions have any obligations to IBM?
While the IBM Champion title recognizes past contributions to the community over the previous 12 months, IBM Champions who wish to remain active in the program are encouraged to do the following:
Continue to contribute regularly to the technical community. (We ask for a minimum of one contribution per month knowing that most Champions contribute far more.)
Regularly share those contributions with the IBM Champion team.
Participate actively in Champion communication channels, such as regularly joining Champion-convened calls, communities and chat channels, and receiving our newsletter.
Tag posts and social media with #ibmchampion as appropriate so that we can both track and amplify contributions.
Identify yourself as an IBM Champion and disclose our relationship when recommending IBM solutions.
Sign and abide by the IBM Champion agreement that governs our non-disclosure agreement.
Remain professional and constructive in your Champion-related interactions.
Once you're selected as an IBM Champion, you can round out your public IBM Community profile in additional ways to further engage with the IT professional community. For example, visit your profile and update your status often to keep it current. Also request an endorsement quote from a colleague or IBM employee, and fill in up to 6 of your most notable achievements or contributions.
Do IBM Champions have any formal relationship with IBM?
No. IBM Champions do not formally represent IBM nor do they speak on behalf of IBM.
How are IBM Champions selected?
How does the nomination process work?
IBM Champions are selected annually through a nomination process. Anyone can complete a nomination, although those seeking to become IBM Champions are encouraged to self-nominate in addition to any community or IBM nominations they may receive. As nominations are received, IBM will evaluate each nominee's contributions over the preceding 12 months from the date of the submission. At the close of the nomination period, an IBM panel will consider the community impact, expertise and overall contributions of the nominee. IBM will evaluate nominees both on the quality of contributions and the level of participation across a wide variety of community activities. See Who is an IBM Champion? for examples of community contributions. Nominees will be notified by IBM if they are selected as IBM Champions.
What are the specific nomination categories for IBM Champions?
Ultimately, IBM Champions advocate for the community of technical professionals using IBM solutions, services, or products. In that role, IBM Champions will collectively represent the spectrum of IBM products and technologies. Areas currently supporting a full IBM Champions program include:
We are always expanding Champions into other IBM areas. You can submit nominations in any area and we'll let you know our status.
How do I improve my chances of being nominated and ultimately being selected as an IBM Champion?
Ensure that you tell the story of how you support the products and community, beyond the scope of your job, in your nomination form. In addition, a detailed profile in the IBM Community is key. For example, be sure to identify your skills and interests; add links that you recommend to others, such as links to your Twitter timeline, blog, or user group; and activate a feed to your LinkedIn profile. You can also list your published works, such as books and articles, and any courses you have taught. Use tags to identify products and technologies you work with, user groups and events your support and other key aspects of your work that we should know.
In your "Professional bio," expound on your recent contributions, honors and awards; your professional or user group associations; and the conferences you attend or speak at, being sure to include dates and links wherever possible. To see what a fully fleshed-out profile looks like for a current IBM Champion, take a look at Champion Theo Heselmans' profile.
How will IBM select the Champions?
A panel of IBM employees reviews each nominee's contributions over the past 12 months for quality and impact on the community. Read details about the nomination process.
How do I withdraw my nomination for an IBM Champion?
You will receive an email after you submit the nomination form, which will include the email address of an IBM Champion support administrator. Contact this admin to have your nomination withdrawn.
How do I end my participation as an IBM Champion?
Contact your Champion administrator to end your participation in the IBM Champion program. (Your Champion admin is the person who contacts you during the nomination, vetting, and acceptance process.)
How can IBM Champions share their accomplishments?
IBM Champions have multiple opportunities to share their accomplishments, including the following:
Wear and display IBM Champion merchandise.
Use IBM Champion logo marks.
Accept and share the IBM Champion Open Badge on social and networking sites.
Nominate an IBM Champion
Nominations are open now through 4 November 2019.
If you have questions, please contact the worldwide IBM Champion program manager. Candidates and nominators will be notified when selections are complete.
| | |
| --- | --- |
| IBM Data & AI (Analytics) | September – October |
| IBM Cloud | September – October |
| IBM Power Systems | September – October |
| Data | September – October |
| Data | September – October |
| Data | September – October |
| Data | September – October |
IBM Champion Badge
IBM Champions are eligible to accept IBM Champion badges for use in social and networking sites as part of their IBM Champion benefits.
What does holding this badge represent?
The IBM Champion badge is an IBM-issued open badge acknowledging the IBM Champion achievement. The badge can be shared on social and networking sites and indicates that the holder is a proven innovative thought leader in the technical community who has demonstrated exceptional expertise and contribution in helping others derive greater value from IBM software, solutions and services.
The badge recognizes the IBM Champion's skills not only in the Champion's area of technical expertise, but also as one who influences and mentors others through blogging, speaking at conferences, moderating forums, leading user groups, and authoring books or articles.
The badge is earned as part of the selection as an IBM Champion.
What badges are issued to IBM Champions?
Current IBM Champion badge offerings include the following:
Annual badges for each year a person is selected as an IBM Champion.
Milestone badges for 3, 5, 7, and 10 years of selection as an IBM Champion.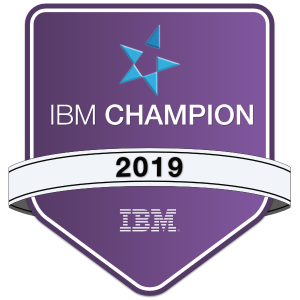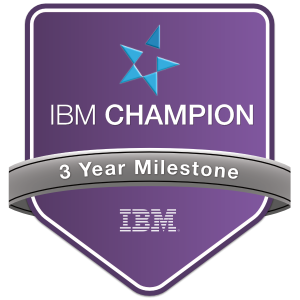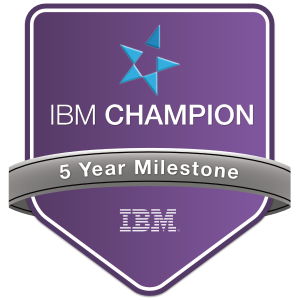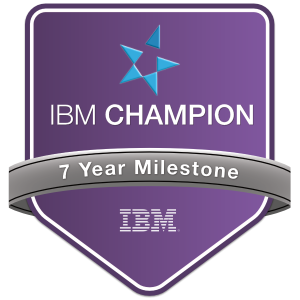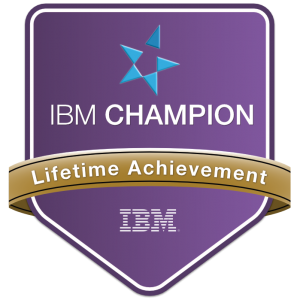 Some areas in the program also award a Lifetime Achievement badge. The IBM Champion Lifetime Achievement award recognizes IBM Champions who stand above their peers for service to the community. Over multiple years, these IBM Champions consistently excel and positively impact the community. They lead by example, are passionate about sharing knowledge, and provide constructive feedback to IBM. The Lifetime Achievement award provides automatic re-nomination into the IBM Champion program for the duration of the program, plus other benefits.
All IBM Champion badges are issued through IBM's Digital Badge Program, which provides an online representation of skills and achievements that adhere to the Open Badge Specification led by the IMS Global Learning Consortium for recognizing and validating learning. When someone clicks on an IBM Champion badge, the badge links to metadata (description, skill tags) describing the IBM Champion qualifications along with the process required to earn the badge. This additional level of information helps tell a more complete and compelling story of the IBM Champion's achievements. For more information on open badges at IBM, refer to the IBM Digital Badge Program.
Please note: Becoming an IBM Champion qualifies as an IBM Digital Badge offering.
NOTICE: IBM leverages the services of Credly's Acclaim platform, a 3rd party data processor authorized by IBM and located in the United States, to assist in the administration of the IBM Digital Badge program. In order to issue you an IBM Digital Badge, your personal information (name, email address, and badge earned) will be shared with the Credly's Acclaim platform. You will receive an email notification from Acclaim with instructions for claiming the badge. Your personal information is used to issue your badge and for program reporting and operational purposes. It will be handled in a manner consistent with IBM privacy practices. The IBM Privacy Statement can be viewed here: https://www.ibm.com/privacy/us/en/. IBM employees can view the IBM Internal Privacy Statement here: https://w3.ibm.com/w3publisher/w3-privacy-notice.